Scenes: Call to Roy – (1:52)
More Clips (below)
Vidyut Jammwal returns to his role as Karan Singh Dogra in this high octane action movie.
Filmed in Yorkshire (UK) and Mumbai (India).
Dir: Aditya Datt
Sunshine Pictures | Reliance Entertainment
Producer: Vipul Amrutlal Shah, Aashin Shah and EP: Adi Sharmaa
Cast: Vidyut Jammwal, Adah Sharma, Angira Dhar and Gulshan Devaiah.
Camera / Lenses:
ARRI ALEXA Mini (x2) Anamorphic
ARRI Master Ana Primes 28, 35, 50, 75, 100, 135
Angenieux Optimo Anamorphic 44-440 A2S
Additional:
Phantom flex 4K – for 1000fps High Speed
RED Dragon (2K) – for 200fps Plates
Drone/s: DJI Inspire 2 / DJI Phantom 3 4K
+ Canon 5D / Go Pro (with stunts)…
Angenieux Optimo Anamorphic 30‑72 A2S
Angenieux Optimo Anamorphic 56‑152 A2S
Hawk V-Lite16 24mm
Hawk V-Plus 120mm (Super Close Focus)
Spherical: ARRI ZEISS Ultra Prime 8/10/12mm (for RED only)
Cooke S6/i Ana Primes 32, 50, 75, 100, 135, 180 T2.3 (UK Only)
Angenieux Optimo 24-290mm Zoom T2.8 with Anamorphic back adapter (UK Only)
Poster: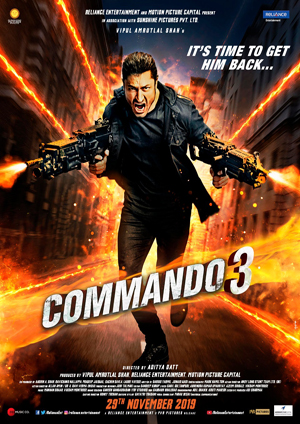 "Mark Hamilton's cinematography is captivating, especially in the action scenes."
– Bollywood Hungama
"The DoP (Mark Hamilton) is the behind-the-scene star of Commando 3. He deserves distinction marks for his camerawork, capturing the stunts with élan."
– Final Verdict
"Cinematography by Mark Hamilton is great and he captures the action sequences very well."
– Super Cinema