New 'Reel' coming soon...
Mark Hamilton:

UK based
Cinematographer / DP
, proficient in formats from 35mm film to digital acquisition.
At home in both studio and location environments, I continue to enjoy my craft across all forms of film, television and shorter form media. //
... Biography
---

Recent Work:

SILENT NIGHT (2020)
Dir: Hannes Michael Schalle
Moonlake Entertainment
- Hugh Bonneville
Release Date: 10.12.2020 (USA)

'83 (2020)
- B Unit/VFX; UK
VFX Supervisor: Alex Guri
Reliance Entertainment
Release Date: 25.12.2020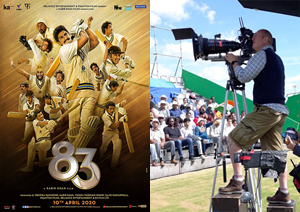 ---
COMMANDO 3
remains India's most popular movie of 2020 with over
34.5 million
views on it's TV premiere (31st May 2020).

"Mark Hamilton's cinematography is captivating, especially in the action scenes."
- Bollywood Hungama