Scenes; Taxi Offer / Getting High / Torture in Garage (3:27)
More Clips (below)
A tough, uncompromising tale about life-long friendship and hard choices. A clash of ideals, deceit, betrayal and danger – set against the backdrop of 'rogue' and 'legit' sides of London's black cabs.
Filmed in Essex and London (UK).
Dir: Adrian Vitoria
Producer: Darren Stuart, Tony O'Leary
Real People Productions | Paramount Pictures; Super 16mm
Cast: Richard Driscoll, Sam Callis, Perry Benson & Deborah Sheridan-Taylor
Camera: Arriflex 16 SR3 + SR2
Lenses: Zeiss Primes (5.9mm to 300mm) + Ziess Zoom 11-110mm
Stock: Super F-Series; F-64D (8622), F-250D (8662), F-250T (8652), F-500T (8672)
Poster: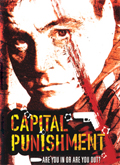 Selected Press: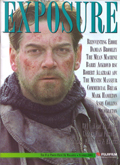 Exposure Magazine (Summer01).pdf
"Capital Punishment" on IMDB